AN ARTHROSCOPE FOR MINIMALLY-INVASIVE, DIAGNOSTIC PROCEDURES
THE MARKET OPPORTUNITY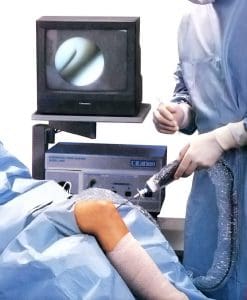 A NOVO principal provided the mechanical design for the first diagnostic arthroscope with disposable distal optics. The minimally-invasive device was intended for in-office diagnostic procedures under local anesthesia in the spine and joints, and needed to provide sufficient image resolution for effective diagnoses of conditions such as ACL tears or a torn meniscus. The complete system included a sterility sleeve, cannula, trocar, durable CCD video camera housing, monitor, and fiber-optic light source.
DIAGNOSTIC ARTHROSCOPE: TECHNICAL AND DESIGN CHALLENGES
Achieving a substantial field of vision within a 2mm fiber-optic diameter and finding methods for keeping the costs low enough to make disposability feasible proved to be the greatest challenges on this project. Additionally, as the design was developed, the engineers paid close attention to industrial design and human factors, as there were multiple mechanisms for the physician to control.
THE ENGINEERING BEHIND GREAT PRODUCTS
To achieve the necessary field of vision, the engineer designed an off-axis viewing angle with a GRIN lens that fit within the 2mm diameter cannula. The hand-piece controls allowed the surgeon to adjust focus as well as the rotation and sweep of the off-axis viewing angle, providing a greater effective field of view than the GRIN lens's actual field of view.
Custom grinding, polishing, positioning, and UV curing fixtures were required to ensure repeatable, precise manufacturing at an acceptable cost. A manufacturing method for heating and bending the quartz image bundle to establish the off-axis viewing angle was developed. The finished device incorporated a disposable assembly made of injection-molded plastic parts, optical potting compounds, illumination and imaging optics, and a handheld scope with a variety of cannula configurations for different applications. Within one year of beginning the design, the device was in clinical trials, tooling had been built, and a production line was in place.
THIS DESIGN RESULTED IN THE FOLLOWING U.S. PATENTS:
D 342 136
5 188 093
5 323 767
5 329 936
5 411 500
5 190 028
5 301 657
More Medical Device Case Studies