DESIGNING AN ELECTROPORATION DELIVERY DEVICE FOR DNA IMMUNOTHERAPIES
BACKGROUND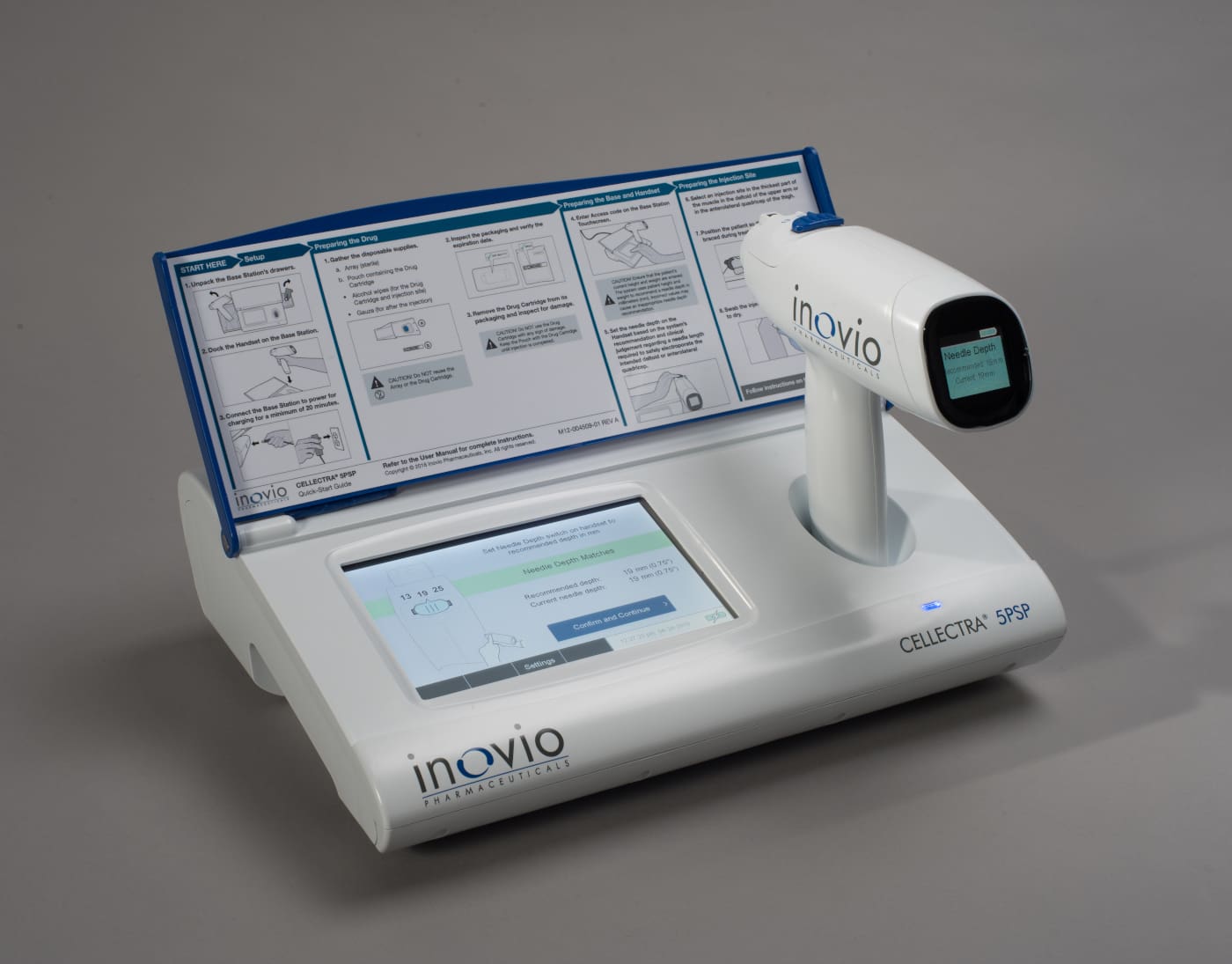 Electroporation delivery systems utilize millisecond-duration electrical pulses delivered through electrodes inserted into the target tissue to create temporary pores in the cell membrane and allow improved cellular uptake of synthetic DNA immunotherapies previously injected at the site of electrical stimulation.
THE CLIENT'S NEED
NOVO's client, a leader in the field of DNA-based immunotherapies and electroporation, needed electromechanical design and development support for their next-generation electroporation delivery system. The device architecture included a durable handset, a base station for charging and user interface, and a disposable electrode array. NOVO was asked to provide the enclosure, electronics packaging, mechanism design, and integration for each of these system components. Also within NOVO's scope was verification testing, generation of design control documentation, and transfer to manufacturing.
TECHNICAL CHALLENGES
There were many technically challenging aspects of this device development effort. The risk management process indicated a need for sensor feedback to confirm proper installation of consumables, completion of the injection, and retraction of the needle. Manufactured costs had to be minimized, particularly for the single-use array. System complexity had to be managed to meet reliability goals. Finally, the durable handset and base station had to be designed to facilitate wipe-down disinfection. A more general and global technical challenge was the need to coordinate the actions of, and communicate effectively with, the separate organizations responsible for electromechanical design, electronics hardware, firmware/software, industrial design, and human factors.
THE ENGINEERING BEHIND GREAT PRODUCTS
NOVO worked with the development team for over two years on this project, providing support that included phase II clinical trial support and transfer to manufacturing. Robust mechanisms for attachment of the electrode array, retracting the needle, and advancing the plunger were developed. Novel position and force-sensing methods, including derivation of motor torque from PWM signal, were implemented to confirm device status. NOVO's ME team generated the enclosure and physical user interface features based on the industrial design and user experience work performed by another vendor.
In addition to the mechanical, controls, and manufacturing engineering, the team managed the verification testing program, including verification test plans, jigs and fixtures, test execution, and test reporting. For the portions of the project under our control, NOVO engineers generated all the requirements, risk analysis, design failure modes and effects analysis (DFMEA), design specifications, CAD models, and drawings that were incorporated into the DHF and the DMR. During manufacturing transfer, manufacturing processes were developed, process instructions (MPIs) drafted, and process failure modes and effects analysis (PFMEA) was performed.
The electronics packaging, enclosure design, and electromechanical system integration for the handset, array, and base station were all delivered ahead of schedule. NOVO played a critical role in bringing this complex project to fruition, as did the other partner firms who contributed to the development. Learn more about this electroporation device on the client's website here.
More Medical Device Case Studies