Creating the Industry's Smallest and Lightest Travel CPAP
Background:
Sleep apnea affects more than 30 million American's per year. One treatment recommended by the American Medical Association is a continuous positive airway pressure therapy (CPAP) device. The elevated pressure reduces airway narrowing that occurs when muscles relax during sleep.
CPAP machines have both near and long-term health benefits including increased energy, lower blood pressure, and reduced risk of stroke.
Somnetics is a company that creates continuous positive airway pressure (CPAP) devices.  They had a vision to create the smallest and lightest travel CPAP on the market to provide a more practical option for sleep apnea sufferers when travelling. The challenge was to package the functionality of existing premium products into a much smaller device.
Technical Challenges:
CPAP devices are relatively high-flow, low-pressure devices with programmable behavior to adjust to various patient needs. Miniaturizing a device without reducing functionality always produces technical challenges.
Sound
For the comfort of the user (and anyone trying to sleep nearby), a primary requirement is to minimize acoustic noise. Maintaining the flow while reducing the flow cross section however, increases acoustic noise. A more sophisticated approach to the air path design had to be developed to avoid increasing sound pressure levels.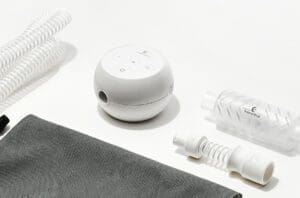 Electro-Mechanical Architecture
The electromechanical system component layout had to be re-architected to fit into a sleek, spherical industrial design. The goal was to minimize the diameter of the device while maintaining the flow and pressure capabilities of the unit. The spherical enclosure had to implement the new industrial design faithfully, provide assembly and mounting features for all components, and be optimized for molding.
Additional Design Details
The electronics design leveraged from earlier, full-sized products, had to be re-laid out in a smaller form factor and end-of-life components substituted. A custom hose adapter was developed to interface the device to "slim" CPAP hoses.
Results: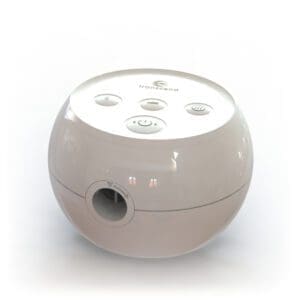 The results speak for themselves. The Transcend Micro is the smallest and lightest travel CPAP on the market with a sleek industrial design and a no-compromise feature set.
The design and development team met all performance requirements for noise, pressure, and flow in a package roughly the size of a baseball. This design is the subject of several patent applications naming NOVO engineers as inventors.
The Transcend Micro offers sleep apnea patients increased convenience and comfort when they travel.
Related Links:
Check out some of our other medical device projects here!
Contact us if you need engineering support.
More Medical Device Case Studies