AND SYSTEM DEVELOPMENT
Award-winning applicator for a continuous glucose monitor (CGM) developed by NOVO for DexCom
THE UNMET USER NEED
DexCom, a pioneer in the development of continuous glucose monitor technology, had developed a fine-wire sensor with a proprietary enzyme coating that produced a signal proportional to glucose concentration in the bloodstream. The sensor was developed to address a need in the marketplace for diabetic patients to monitor their glucose levels on a continuous, rather than a periodic, basis. The question was how to get the tiny, delicate sensor into the patient and make the minute, sealed electrical connections on the fly.
THE TECHNICAL AND DESIGN CHALLENGES
With their in-house engineering team occupied by other aspects of the system, DexCom turned to NOVO to develop a single-use applicator for precisely inserting the sensor into the patient, a wearable pod (receptacle) with hermetically sealed electrical connections for the sensor, and a breathable, adhesive patch for securing the sensor to body for extended use. The system also had to be easy to use for untrained patients who might have some level of physical impairment. Some of the key technical and design challenges included:
High-volume, low-cost applicator design
Precise, automatic subcutaneous sensor delivery
Sensor stability throughout the wear period
Intuitive, reliable, ergonomic usage
Needle-stick protection
Device miniaturization and ergonomics
Hermetic sealing of electrical connections
Biocompatibility and sterilization compatibility
Assembly automation
RESULTS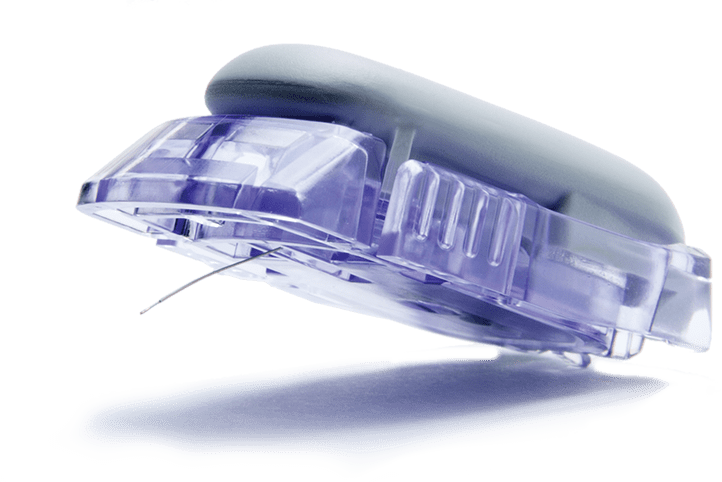 NOVO responded to the challenge with an award-winning applicator design that has been in production for more than ten years as of this writing. The design is the subject of multiple U.S. utility patents, and more importantly, is recognized by patients as the standard in the industry. DexCom imposed a fast-track development schedule on the program and NOVO responded with a product design that made it through clinical trials, gained FDA approval, and was introduced to the market within 14 months from the initial conception of the product. Along the way, NOVO contributed to the development of the transmitter and receiver design, manufacturing processes, custom equipment, and verification testing efforts.
This project's success is evidenced by the continued confidence and trust NOVO enjoys from a company that sets the industry standard for CGM systems, and by the testimonials from patients whose lives have been improved by their use of the product.
Issued US patents for this design:
More Medical Device Case Studies