BIOTECH INSTRUMENT AND CONSUMABLES DEVELOPMENT FOR DIAGNOSTIC AND RUO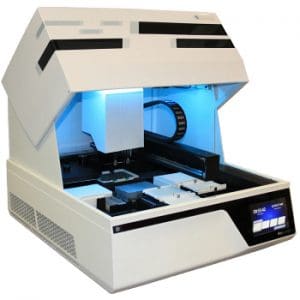 NOVO has biotech instrument development and biotech equipment development experience in the areas of enzyme discovery, DNA printing, DNA sequencing, capillary electrophoresis, accelerated cell culture growth, biological sample collection and recovery, and general lab automation. Our senior biotech development team includes hardware and software experts from enzyme commercialization, DNA sequencing, lab equipment and supplies, and lab automation companies.
In addition to biotech industry professionals, NOVO has senior-level product developers from other technical product industries who have made significant contributions to biotech instrument, consumable, and lab automation projects while at NOVO. The techniques and methods from higher-volume, and more cost-sensitive, commercial product industries have benefited our biotech clients as they move into point-of-care diagnostic products, and as competition in the biotech marketplace grows.
We can provide diagnostic device development from concept to clinical trial unit manufacturing under our ISO 13485:2016 certification. Our cross-industry experience, in-house tools for rapid development, and proven product development process make NOVO a compelling choice for our biotech instrument clients.
Biotech Instrument And Consumable Experience
Fluidized bed centrifuge
General lab automation
Syringe pump and peristaltic pump dispensing systems
Diagnostic devices
Flow cells
Capillary electrophoresis cartridge development