AUTOINJECTOR FOR SINGLE-USE, PREFILLED, SAFETY SYRINGES
Patients with chronic conditions that require regular injections of a therapeutic drug often have difficulty manipulating small syringes and injecting themselves. NOVO's client, a manufacturer of single-use, prefilled, safety syringes, contracted NOVO to develop a durable autoinjector to automate and simplify patient-administered injections. Unlike purely mechanical autoinjectors on the market, this would be electronically controlled, providing a simplified, more pleasant experience for the patient.
TECHNICAL CHALLENGES: AUTOINJECTOR DESIGN
The primary challenge on this project involved developing a motor and drive system to remove the needle shield, advance the syringe, advance the plunger, and retract the needle into the syringe for safe removal by the user after injection is complete. This motor and drive system needed to run on a non-rechargeable battery. Battery life requirements were three years on the shelf plus two years of service life. To meet this goal, efficient mechanisms, low-power electronics, and power management algorithms needed to be developed. Further challenges included accommodation of drugs with a wide range of viscosities, which required development of a drive system capable of controlling flow rates over a broad range of loading and use conditions.
THE ENGINEERING BEHIND GREAT PRODUCTS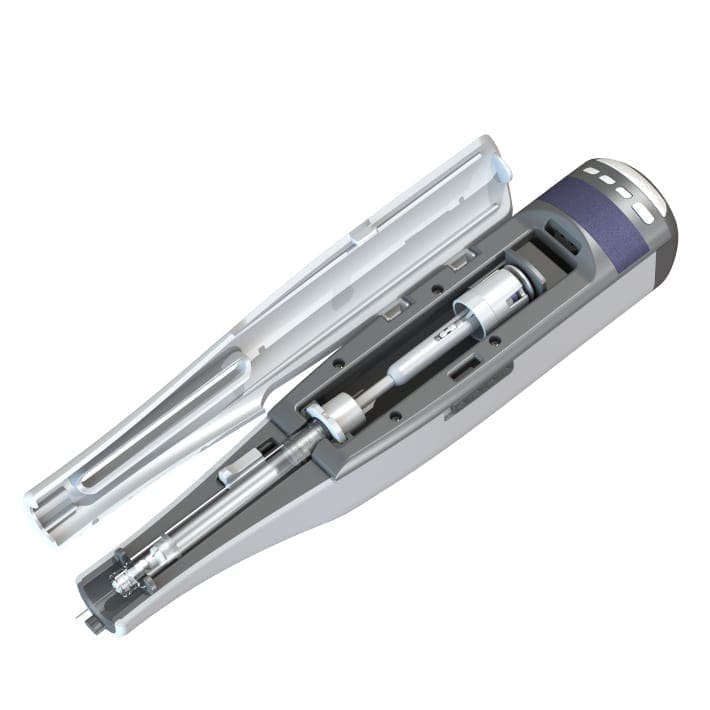 The industrial design of the device was elegant, sleek, and compact. NOVO's work became an exercise in miniaturization and mechanism design. A custom, high-ratio, low-friction drive train was coupled with a small DC motor. An optical encoder was mounted at the optimum reduction for servo stability. Interlock mechanisms were designed to ensure that the plunger could not be depressed unless the syringe was properly seated within the autoinjector. Nearly every cubic millimeter was utilized in order to accommodate the circuit boards, sensors, indicator LEDs, battery, and interconnect cabling.
The final design was capable of driving the needle forward and back at thirty millimeters per second and had three different settings for the dosing speed. The user could select different dosing speeds based on their particular comfort level.
NOVO also worked closely with the client's internal industrial design team to improve the human factors element and design for usability. Some unique features that were added to improve user experience included a single, multi-function button with LED status indicators, skin surface detection to prevent wasting costly drug product, and a battery life indicator.
NOVO's contributions in this field have resulted in US patents 8 979 795 and 8 939 935.
More Medical Device Case Studies