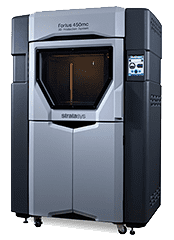 FASTER DESIGN CYCLES, GREATER REFINEMENT, MORE FREEDOM TO EXPERIMENT
Our on-site FDM (fused deposition modeling) and PolyJet (UV-cured photopolymer) 3D printing capabilities provide significant benefits to our clients in the form of design refinement and schedule compression.
While outside service bureaus may be able to turn around a print job in a day or two (with a premium charge) we can do it within hours, and submit jobs at the end of the day that will be ready and waiting in the morning. There is no question that 3D printing has changed the way that mechanical engineers work, primarily by providing an inexpensive means to confirm design direction before releasing designs for more costly and time-consuming prototyping methods, such as CNC machining. Using onsite 3D printing to confirm changes to parts that are already tooled provides an even more dramatic savings of time and money.
At NOVO, we use complementary prototyping process such as CNC machining, 3D printing, and  thermoset resin casting to create form and fit models or functional components with representative material properties. Having the capital equipment in house and knowing how and when to use each process accelerates product development and leads to better designs.