FEASIBILITY EXPLORATION FOR A HANDHELD REAGENT DISPENSER
THE CLIENT'S NEED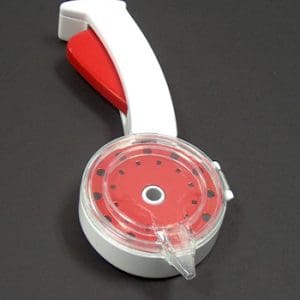 A life sciences company engaged NOVO for product research and development of a reagent packaging and dispensing system. Previously, reagent material was transitioned to well plates using tweezers. An exploratory project, this work encompassed the feasibility assessment, concept development, proof of concept, and creation of packaging and dispensing prototypes.
THE TECHNICAL AND DESIGN CHALLENGES
Reagent packaging and dispensing presented challenges due to the electrostatic, hygroscopic, and highly friable nature of the material. Dispensing the material without it clinging to the packaging or breaking required novel techniques. The dispenser itself needed to be durable, cleanable, ergonomic, and intuitive to operate, and had to prevent cross-contamination of enzymes.
THE ENGINEERING BEHIND GREAT PRODUCTS
The NOVO team tackled this project in two phases: packaging and dispensing. To package the reagent material without exposing it to moisture, the team researched and selected the best industry-standard foils and blister films for providing moisture, UV, and oxygen barriers, and which contained conductive compounds to prevent the material from clinging to the packaging. A final recommendation was provided to the client.
Next, several methods for dispensing and several dispenser designs were explored and submitted in the form of industrial design sketches, CAD images, and rapid prototypes. To release the reagent material from the foil, a series of puncturing concepts, inverted blister styles, and peel foils were analyzed and down-selected, and final selections provided via CAD images. The industrial design of the dispenser took human factors into consideration: dispensers indicated the quantity of reagent material remaining in a dispenser, could be operated with one hand, and were easy to use. The durable dispenser designs incorporated disposable dispenser tips to prevent cross-contamination.
From feasibility assessment to development of prototypes, this concept development assignment was performed in four weeks.
More Biotech Instruments and Consumables Case Studies