DEVELOPING A CUSTOM LAB AUTOMATION WORKCELL
THE CLIENT'S NEED
The client, a fast-growing biotech company, contracted NOVO to design a custom lab automation workcell for a high-throughput screening system workflow. The process had been prototyped on the bench and the client was ready for a solution that was more productive and better controlled.
TECHNICAL AND DESIGN CHALLENGES: LAB AUTOMATION WORKCELL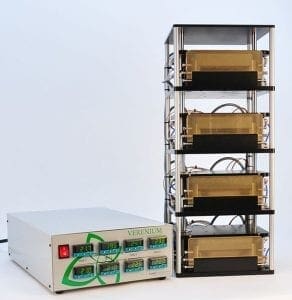 Some of the components mounted on the deck of the workcell included two 6-axis robot arms; a high-speed, random-access, ambient carousel; a self-sterilizing automated incubator; and a custom 4-station plate-heating robot previously developed for the client by NOVO.
Typical challenges when converting a benchtop, proof-of-principal experiment operated by scientists and engineers to a "production" system that will be operated by technicians include:
Deck layout design to optimize efficiency
Cross-contamination control
Convenient loading and unloading of labware and samples
Access for maintenance and cleaning
User-friendly software for setup and monitoring
Operator electrical and mechanical safety
Spill control
Hookups for power, waste fluids, compressed gas, communications, and ventilation
Filtration of biogas produced during biological processes
Structural rigidity to react the inertial loads generated by high-acceleration robotic arms
This project had additional challenges related to precision location and docking of mobile equipment carts that were interfaced to the workcell during a run, and from which the robot arms loaded and unloaded microplates and other process materials.
THE ENGINEERING BEHIND GREAT PRODUCTS
NOVO designed a three-cell enclosure with a deck for stable mounting of devices, drops for utilities, allowance for a HEPA filter, and two dockable equipment carts. Custom kinematic mounts were designed for the dockable carts to ensure the necessary location accuracy. Resulting accuracy and repeatability were sufficient to avoid the need to re-teach robots. Interlocks and sensors were utilized to enable "hot-swapping" of the equipment carts during operation.
The location of computers, drivers, and power supplies under the deck, industrial controls within NEMA panels, and thoughtful cable (and tubing) management yielded a clean, uncluttered deck that facilitated cleaning and maintenance. Attention to the overall aesthetics of the enclosure, and the neat, orderly deck layout were much appreciated by this client. Because the workcell was going into a new facility, NOVO engineers worked closely with the building contractor and the client's facilities team to ensure there would be no unpleasant surprises during installation.
According to the client, this piece was custom-designed, built, and installed for a fraction of what automation vendors typically charge.
More Biotech Instruments and Consumables Case Studies