PAGEWIDE PRINTHEAD ENABLES FASTER PRINT LABEL PRINTING
DESIGN AND PILOT MANUFACTURING: COMMERCIAL LABEL PRINTER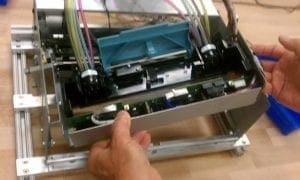 NOVO was contracted to design a new label printer configuration that could potentially open new markets for our client. The number of new components required was minimized by leveraging components from other models in the client's existing product lineup. A z-motion axis was added, taking advantage of existing unused motion control I/O on the system board. Firmware was modified to provide programmatic control over the new axis. A complete battery of design verification tests, including life testing, was conducted. The label printer design was complete and ready ready for beta site testing.
The client had the option to have one of their existing manufacturing partners manufacture the beta units before scaling up for production. However, due to the lower sales projections for this product configuration, the non-recurring expenses (NRE) and the minimum order quantities the contract manufacturers requested were unacceptable. The client turned to NOVO's pilot manufacturing solution to produce units during a market exploration and expansion phase that lasted twelve months. Unlike high-volume manufacturers, NOVO was able to produce smaller quantities of units in an efficient manner and to cope with substantial variations in product demand, pausing production when needed. While the cost of the units was higher than a high-volume manufacturer might offer, the overall investment required was substantially lower. As part of the interim manufacturing deliverables, NOVO developed and refined documentation that would facilitate rapid transfer to a conventional contract manufacturer when product demand began to exceed NOVO's interim manufacturing capacity.
This documentation included:
Full design models and drawings
Design intent document
Full assembly and inspection procedures
Assembly and test fixtures
Full videos of the assembly process
FLEXIBLE, LONG-TERM RELATIONSHIPS WITH OUR CLIENTS
At the outset of the project, the scope did not include short-run manufacturing, or manufacturing of any sort. When it became clear that the client's existing CM relationships were not a fit for this project however, NOVO quickly established a pilot manufacturing capability that included typical manufacturing and quality controls and provided the necessary beta units at a much lower overall cost. It was a good example of NOVO's policy of supporting our clients in any way we can, and responding quickly to an unforeseen client need.
Subsequently, NOVO incorporated pilot manufacturing services into our ISO 13485:2016-certified quality management system, and is now able to offer pre-production manufacturing services for both medical and non-medical products.
More Printer Systems Case Studies