BUILDING A HIGH-SPEED PHOTO FINISHER AROUND AN INKJET PRINTER
THE CLIENT'S NEED
Our client, Hewlett Packard, was developing a high-throughput photo printer, and wanted to add a high-speed photo finisher accessory to to create a behind-the-counter photo finishing solution. The printer accepted 3 input sheet sizes, which needed to be cut down to a large number of output dimensions that would require multi-axis cutting. To be more useful as a retail solution, the finisher would need a sorter-stacker system to enable batch processing of orders.
THE TECHNICAL AND DESIGN CHALLENGES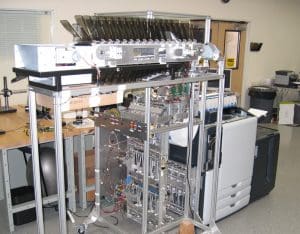 The printer had a highly asynchronous output of three photos every 8 seconds. The newly printed photos could not tolerate any contact on the freshly-printed surface, making transport using a roller-nip drive infeasible; a non-contact media transport would be required. The sheet media had to be transported without any contact on the printed surface. A buffer loop to allow sufficient dry time prior to cutting was necessary.
While single-axis cutting of web media is common, two axis cutting—slitting and cross cutting—is not. Accurate positioning of the media and media support during the cutting operation was a non-trivial design problem. Both the cutter and the sorter-stacker system had to match or exceed the printer throughput in order to maximize overall system throughput. Media-handling reliability requirements were demanding, and would be challenging to meet when sorting and stacking loose sheets of variable dimensions.
Other challenges included strict footprint requirements to accommodate retail spaces where floor space is at a premium, and ensuring accessibility for changing consumables and removing jams. In addition, operating the equipment had to be easy, safe, and ergonomic.
THE ENGINEERING BEHIND GREAT PRODUCTS
NOVO engineers designed a felt-covered, multi-path belt transport system that could handle the still-drying photos in 8-second bursts and stage them for slitting and cutting to final size. The XY cutter was able to map three different input sheet sizes into the most common output sizes. The cutter and the sorter were able to operate at a throughput that exceeded the printer output so that overall system throughput was maximized. NOVO was able to identify a manufacturer with hundreds of years of blade-making experience to supply fixed and rotating cutter blades that produced a clean cut and provided adequate service life.
Keeping the footprint of the printer as small as possible was accomplished with a design that wrapped around the existing printer. Throughout the project, NOVO interfaced with the client as well as various subcontractors, and, after two quick iterations and a demo, NOVO handled the final transfer to manufacture. The entire project, from architecture to transfer to manufacture, took approximately 9 months.
More Printer Systems Case Studies