DIGITAL PRINTING SYSTEM FOR CONVEYOR AND ROLL-TO-ROLL PRINT APPLICATIONS
THE CLIENT'S NEED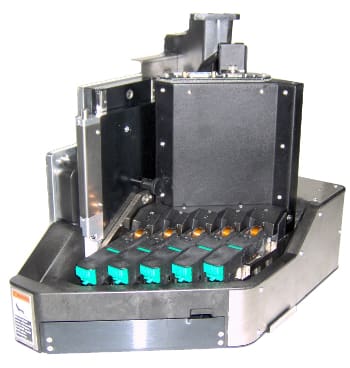 Hewlett-Packard Specialty Printing Systems contracted NOVO for development of an industrial printing system. The system was to be a separate component that could be integrated into an industrial printer and needed to be capable of high throughput of up to 400 feet per minute for printing books or large volumes of mailers. The client contracted NOVO for engineering services because they did not have enough in-house staff to carry out the project and did not have enough subsequent work to warrant opening requisitions for additional in-house staff.
THE TECHNICAL AND DESIGN CHALLENGES
Incorporating parts from both industrial and consumer printers to create the system presented a challenge. The system had to be reliable enough to meet the demands of industrial printing customers, but needed to borrow from consumer products to save money with injection-molded plastic parts whenever possible. Finding the right balance between machined metal and injection-molded plastic parts in order to keep costs manageable while preserving robustness and precision required extensive research and analysis and the ability to draw on the engineers' experience in printer development and various other product development fields.
THE ENGINEERING BEHIND GREAT PRODUCTS
This was a significant project that lasted two years. This system, named VideoJet, printed monochrome on a swath of 4¼" inches on cut sheets, rolls, or envelopes, and had synchronization options so materials like books could be printed and then finished and folded at another station. The finished system included four printheads of 0.85" each, with service stations and ink delivery systems, plus electronics to drive the printheads. It also included two motors, one to move the service station laterally for printhead maintenance, and the other to position the printheads vertically to ensure precise pen-to-paper spacing and to enable service station operation. All materials and finishes were suitable for use in an industrial environment. The application-independent system included mounting features that allowed it to be adapted to a variety of media handling systems such as roll to roll or conveyor lines. A PC was used for the MMI, and an ink delivery module delivered up to 1 liter of ink per hour to each printhead.
NOVO engineers worked on site to supplement the in-house staff, making up half of the entire development team. "This project was growing very uncontrollably…If we hadn't contracted NOVO, I don't know how we would have done it," said the lead engineer from the HP. The experienced NOVO engineers were able to begin producing immediately upon contracting NOVO's services, providing high-quality engineering and saving the client time and money.
Below is a video that shows the VideoJet printhead mounted on a high-speed mail printing line:
More Printer Systems Case Studies