DEVELOPING AN INKJET PHOTO MINILAB FOR RETAIL ENVIRONMENTS
THE CLIENT'S NEED
Phogenix, a joint venture between Hewlett-Packard and Kodak, had undertaken an aggressive development effort for a retail inkjet photo minilab. The minilab was designed as a "dry" lab, replacing the need for silver halide baths and requiring less expertise to operate. Phogenix had a need for senior-level design engineering for the mechanism-intensive, high-throughput machine. NOVO provided five engineers as contractors on the project to support the chassis, enclosure, laminator, and cutter subsystems.
NOVO'S CONTRIBUTIONS
The NOVO engineers provided machine, enclosure, and mechanism design, as well as process development for laminator and cutter subsystems on the inkjet photo minilab. Their contributions enabled the following features and solutions on this complex and highly integrated machine: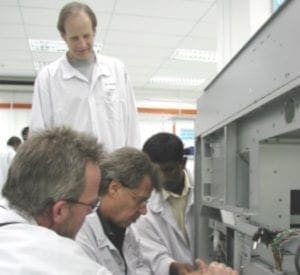 A modular architecture so that design of each subsystem could be coordinated independently, with connections managed by interface specifications.
A datum scheme that ensured the alignment between subsystems so that the web media would not be over-constrained.
Minimized footprint, unattended operation, usability, and the ability to produce photos of infinitely variable sizes from a single input roll.
A custom 2D cutting table that allowed infinite varieties of photo sizes.
A novel buffering system between the cutting and lamination stations that enabled the printer and laminator to operate continuously while the cutter operated in a stop-start mode.
An optimized a thermal transfer overlay process to apply a laminate of only a few microns to printed photos.
Dozens of patents on everything from creative use of waste paper to tension control of laminate films.
EPILOGUE
HP and Kodak ultimately decided not to bring the minilab to market for various reasons, and Phogenix was shut down. For NOVO, despite the loss of our primary customer at the time, the shutdown proved fortuitous. Two of the top engineers at Phogenix (who had been two of HP's top engineers before) joined NOVO as partners in 2003: Rajan Ramaswamy, who is currently president and CTO, and Dave Petersen, who was VP of Engineering at NOVO until his retirement in 2009. Over the next few years, several other talented hardware and software design engineers that we got to know during the Phogenix project joined NOVO as well. This was one of the many episodes in NOVO's history where we were fortunate to have received a benefit that outweighed what at first seemed to be a disaster.
More Printer Systems Case Studies