2021 was a busy and exciting year for NOVO Engineering in the medtech development business. We continued to support existing clients in drug delivery, glucose monitoring, and diabetes care and added new clients in the diagnostics, respiratory care, spine, and catheter-based device categories.
In this article, we'll focus on a few of the more innovative devices we helped to develop and relate them to some of the advancements and trends in the medtech industry.
A Few Highlights From 2021
NOVO rebounded strongly from pandemic-related business challenges returning to our pre-pandemic staffing and revenue. About 70 percent of revenue came from our medical device clients, and 85 percent of medical device revenue came from repeat customers.
Significant categories of medtech that NOVO worked on in 2021 included continuous glucose monitoring (CGM), phototherapy, blood analysis, intravenous therapy, drug delivery, wearable sensing devices, and epidermal regeneration.
Two of the devices we helped develop received FDA 510(k) clearance, including the Bigfoot Unity System and the NuVasive Pulse Platform, which also received CE Mark certification in 2021.
Multiple clients received grants or closed financing rounds, enabling them to proceed to the next stage of development.
Like many small businesses during this unprecedented year, we developed new project — and company — management processes that improved the effectiveness of remote working.
Our annual ISO-13485 compliance audit won us praise from the auditor for our customized quality system tailored to the contract engineering services business.
All in all, 2021 was an excellent year that began in uncertainty and ended with a wide range of successfully completed projects and achievements. Medtech development will continue to be one of our primary areas of focus because the disciplined development process, technical challenges, and need for innovation are well aligned with NOVO's core strengths.
Continuing Trends in Medtech Development
Connected Health & Connected Devices
We continue to see the transition to connected health devices as a significant trend in healthcare, allowing communication between medical devices and the cloud. When data is transmitted via connected devices and stored in the cloud, it can then be used for remote healthcare management – a connected medical health model feature. A connected medical device development process requires specialized hardware and software engineering expertise and an understanding of the regulatory environment.
Medical Devices Based on Biosensors
Biosensors produce an electronic signal proportional to the concentration of one or more molecular biomarkers or analytes within a biological fluid. Thanks to advances in manufacturing methods, materials, and biochemistry, these biosensors offer a convenient way to collect data about health status. Implementing biosensors into wearable, implantable, or card-based devices means that data can be collected to monitor and screen for a multitude of conditions such as blood glucose levels, pregnancy, or disease biomarkers.
Point of Care Diagnostics
NOVO continues to support the development of both CLIA-waived and more complex diagnostic tests. Diagnostic consumables include cartridges, cassettes, test cards, and reagent reservoirs. Instrument work included sustaining engineering on immunoassay instruments, readers, and meters and developing a handheld, early-detection system for skin cancer. The general trend is toward POC systems as healthcare becomes more consumer-focused and cost-driven.
Integration
Integration of technologies into a single platform with a seamless user interface provides greater convenience and functionality to users, be they surgeons, patients, or caregivers. Projects like the Pulse platform and our work in connected medical device development are examples of a trend towards technology integration. These efforts are a good fit for us because they rely on a strong systems engineering approach and expertise in multiple disciplines.
Medical Device Projects
Some notable contributions by the NOVO team in 2021 include our work with clients like DexCom, Bigfoot Biomedical, NuVasive, and Progenity.
Dexcom
DexCom, one of NOVO's first medical device clients, is a global leader in continuous glucose monitoring (CGM) systems. DexCom continues to set new standards in the industry by developing newer, better, and more effective tools to help people with diabetes who are insulin-dependent and who would benefit from the addition of continuous glucose monitoring to the tools they use to manage their blood glucose levels.
Historically, NOVO contributed to mechanical engineering and design efforts for DexCom's original CGM platform and several more recent platforms. During 2021, NOVO developers also supported various mobile applications for future CGM products.
According to the Centers for Disease Control and Prevention (CDC), in the United States alone, there are approximately 37 million people with diabetes – a third of whom use insulin. The CDC estimates that there are 96 million people with pre-diabetes. These numbers explain the ongoing industry focus on developing new treatments and diabetes management tools.
Veriskin
Veriskin, a client with a novel skin cancer diagnostic technology (TruScore), was awarded a grant from the National Cancer Institute to support clinical trials. TruScore is a non-invasive, handheld device that measures capillary blood flow to distinguish skin cancer from non-malignant skin abnormalities during the early stages of the disease process. Most skin cancers are curable when detected during the early stages of the disease.
Bigfoot Biomedical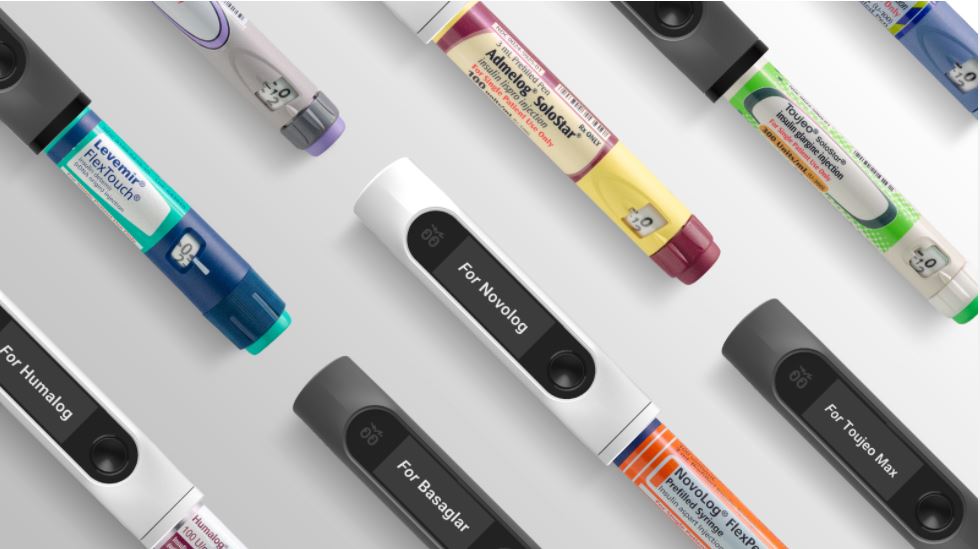 Bigfoot Biomedical received FDA 510(k) clearance for their Unity Diabetes Management System that integrates a smart pen cap networked with a mobile device host and Freestyle Libre.
The NOVO team helped address key technical issues in their product involving electromechanical design, body area networking, data" encryption, and user interface design.
According to Bigfoot, it is an industry first that the Unity system provides insulin dose information using available glucose data. This information assists persons with diabetes mellitus who use disposable pen-injectors for the self-injection of insulin to implement healthcare provider recommended insulin dose regimens.
NuVasive
For over a decade, NOVO has worked with NuVasive on new product development for their minimally invasive spine surgery products.
In 2021, the NOVO team continued to provide NuVasive with hardware and software support, primarily on their Pulse platform. This platform integrates multiple technologies that enable better spine surgery outcomes into a single platform. The Pulse platform includes global alignment, rod bending, neuromonitoring, imaging, robotic surgical tools, and navigation technologies.
NuVasive successfully received FDA clearance for the Pulse platform in July of 2021 and announced their first commercial cases that utilized the Pulse platform in September 2021.
Progenity (now Biora Therapeutics)
NOVO has been the primary electromechanical design partner for Progenity's ingestible devices used for diagnostic sampling and drug delivery.
Throughout 2021, we assisted Progenity/Biora in the development of "innovative smart pills designed for targeted drug delivery to the GI tract and systemic, needle-free delivery of biotherapeutics." The ability to target specific regions of the gastrointestinal (GI) tract enables the use of oral biotherapeutics that cannot survive stomach acids and that are currently delivered by injection.
Contact NOVO
Contact the NOVO engineering team to learn more about the medtech development projects and advancements NOVO has supported.
We look forward to discussing your projects, technologies, and innovations and showing you how we can help your business with hardware or software product development services in the medtech space.
---