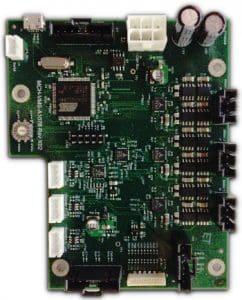 PRECISION MOTION CONTROL SYSTEMS FOR PRODUCTS AND MACHINES
NOVO has delivered brushed and brushless DC servo and stepper motor solutions for motion control applications ranging from wearable devices to industrial robots. Our experience ranges from low-cost, high-volume applications where the motor and controller are fully customized, to industrial solutions that use off-the-shelf motors and industry standard drives and network/bus architectures.
Based on the application, NOVO can select high-level motion controllers that provide a variety of motion planning features such as ramp generation and electronic gearing, or use a microprocessors or microcontrollers to drive an H-bridge at the lowest level. In some applications where the number of axes is uncertain at the outset of the program, NOVO has designed CAN bus connected boards that permit expansion even late in the design cycle. NOVO is also experienced with reading a variety of digital and analog sensors and encoders used to control motion or measure power.
The electronics design team works closely with the system engineering, mechanical and software teams to deliver well-integrated solutions that work right the first time and provide reliable service over the design life of the application.
Learn about NOVO's expert in-house PCB layout capabilities here.